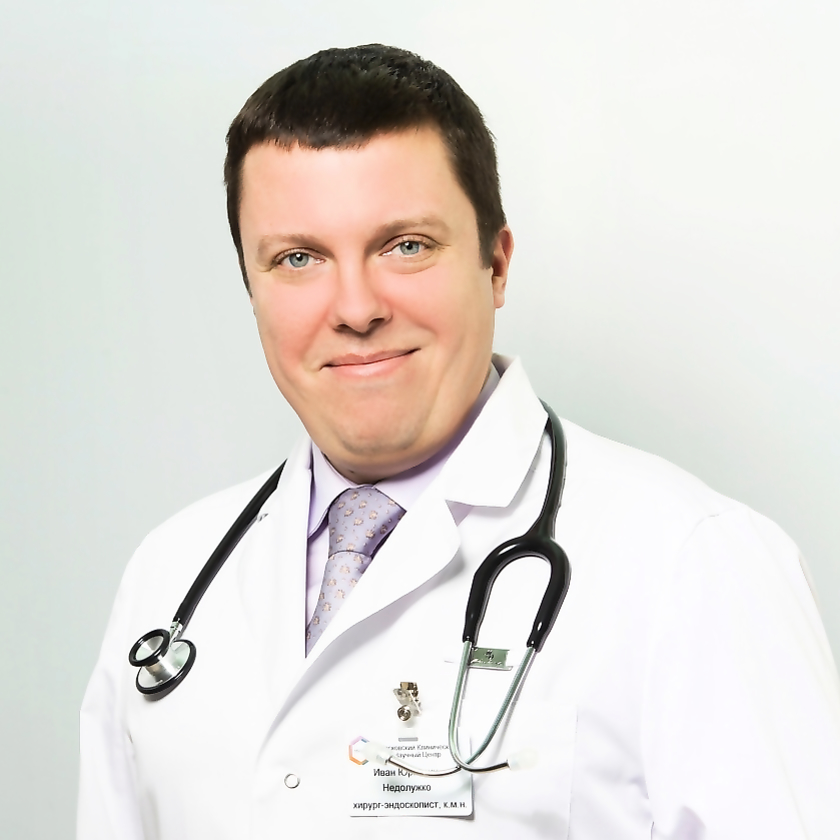 Nedoluzhko Ivan Yurievich
Endoscopist, Head of department
Education:
09/1999-06/2005 Diploma in medical science»
Russian State Medical University of the Ministry of Health of the Russian Federation named after N. I. Pirogov
Work experience:
09/2013-presentSenior Researcher, endoscopist, surgeon. Department of Operative Endoscopy, MCSC
07/2010 - 09/2013 Researcher, endoscopist, surgeon. Surgical Endoscopic Department. Vishnevsky Institute of Surgery, Moscow
10/2007 - 07/2010 Endoscopist, surgeon. Surgical Endoscopic Department Vishnevsky Institute of Surgery, Moscow
09/2005 - 09/2007 Resident in surgery. Surgical Endoscopic Department. Vishnevsky Institute of Surgery, Moscow
Certificates:
Surgery (2007), Endoscopy (2010), Radiation safety of the patient and staff during rengenological interventions (2012).)
Dissertation for the degree of Candidate of Medical Sciences-2010. Thoracoscopic splanchnixympathectomy in the treatment of pain in patients with unresectable pancreatic cancer
Clinical interests:
Esophagus, stomach, and 12p.k.:
Diagnostic and operative, gastroscopy, colonoscopy, intestinoscopy
Gastroesophageal reflux disease;
Hiatal hernia;
Barrett's esophagus;
Cardiospasm and achalasiacardia (POEM, balloon dilation);
Esophageal diverticula;
Scar and tumor strictures of the esophagus;
Benign and malignant neoplasms of the esophagus and stomach (mucosal resection and submucosal dissection);
Polyps of any localization (polypectomy, mucosal resection);
Submucosal neoplasms of any localization (tunnel resection);
Gastrointestinal stromal tumors (GIST);
Small and large intestine:
Gastrointestinal bleeding of unclear localization;
Tumors of the small and large intestine;
Polyps and submucosal neoplasms of the small and large intestine.
Liver, bile ducts, and pancreas:
Cholelithiasis, chronic calculous cholecystitis;
Complicated forms of GI, choledocholithiasis;
Chronic pancreatitis and its complications;
Postnecrotic cysts of the pancreas
Cicatricial, post-traumatic strictures of the bile ducts;
Mechanical jaundice;
Tumor lesion of the bile ducts and pancreas (stenting)
International activities:
Over the past 5 years, he has made presentations on endoscopy and endosurgery at 6 international conferences held within the framework of EAES, ESGE, etc.
Internships in foreign clinics:
Dr. Horst Schmidt Klinik Wiesbaden, Wiesbaden, Germany, 2012
Institute for Clinical and Experimental Medicine, Prague, Czech Republic, 2013
Istituto Clinico Humanitas, Milan, Italy, 2014
Membership in societies:
Russian Society of Surgeons
Russian Society of Endoscopic Surgeons
Society of Hepatological Surgeons of Russia and the CIS Countries
Сертификат: 0677241982990 от 05.07.2019
Читайте наш Facebook, чтобы быть в курсе последних событий.
Современная технология:
Забор анализа за 10 минут
Высокая точность исследования
Соответствие требованиям Госуслуг и Роспотребнадзора
Записаться