Departments and Centers
Лаборатория нутрициологии
В МКНЦ более 10 лет существует лаборатория нутрициологии, которая занимается коррекцией недостаточности питания, возникающей вследствие различных заболеваний пищеварительного аппарата (желудка, кишечника, поджелудочной железы, печени и т.д.). Также сотрудники лаборатории нутрициологии...
Read more
Collapse
В МКНЦ более 10 лет существует лаборатория нутрициологии, которая занимается коррекцией недостаточности питания, возникающей вследствие различных заболеваний пищеварительного аппарата (желудка, кишечника, поджелудочной железы, печени и т.д.).
Также сотрудники лаборатории нутрициологии совместно со специалистами МКНЦ занимаются разработкой методов коррекции недостаточности питания при различных заболеваниях желудочно-кишечного тракта, а также при последствиях хирургических вмешательств и подготовкой пациентов к оперативным вмешательствам.
Вопросы можно задать по почте: NS@mknc.ru
Приглашаем Вас на консультацию в лабораторию нутрициологии, где квалифицированный специалист определит степень нутриционного риска, степень дефицита питательных веществ, проведет диагностику нутриционного статуса, после чего поможет оптимизировать (скорректировать/восстановить) при необходимости обмен веществ (белков, энергобаланса, витаминов, микроэлементов и др.).
Doctors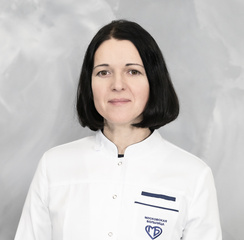 Gastroenterologist
Head of laboratory
Position: Research Associate Education: higher education, graduated from the Moscow State Medical and Dental University (MSMSU) Titles: PhD Experience: more than 13 years in the specialty of...