Departments and Centers
Торакоабдоминальной хирургии
В отделении осуществляется хирургическое лечение пациентов с доброкачественными и злокачественными опухолями торакальной и абдоминальной локализации. Выполняются расширенные, комбинированные и органосохраняющие операции при раке и доброкачественных опухолях легких, злокачественных и...
Read more
Collapse
В отделении осуществляется хирургическое лечение пациентов с доброкачественными и злокачественными опухолями торакальной и абдоминальной локализации.
Выполняются расширенные, комбинированные и органосохраняющие операции при раке и доброкачественных опухолях легких, злокачественных и доброкачественных новообразованиях пищевода, желудка и средостения. Основная масса оперативных вмешательств выполняется из малоинвазивных (торакоскопического и лапароскопического) доступов.
Doctors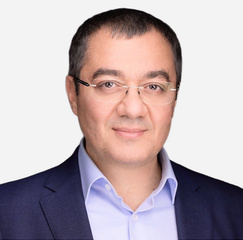 Surgeon
Head of department
Education: 1997-graduated from the Azerbaijan State Medical University with a degree in Medical Science. 1998-2000-Clinical residency in the Thoracic Department of the N. N. Blokhin Russian...