Khatkov Igor Evgenievich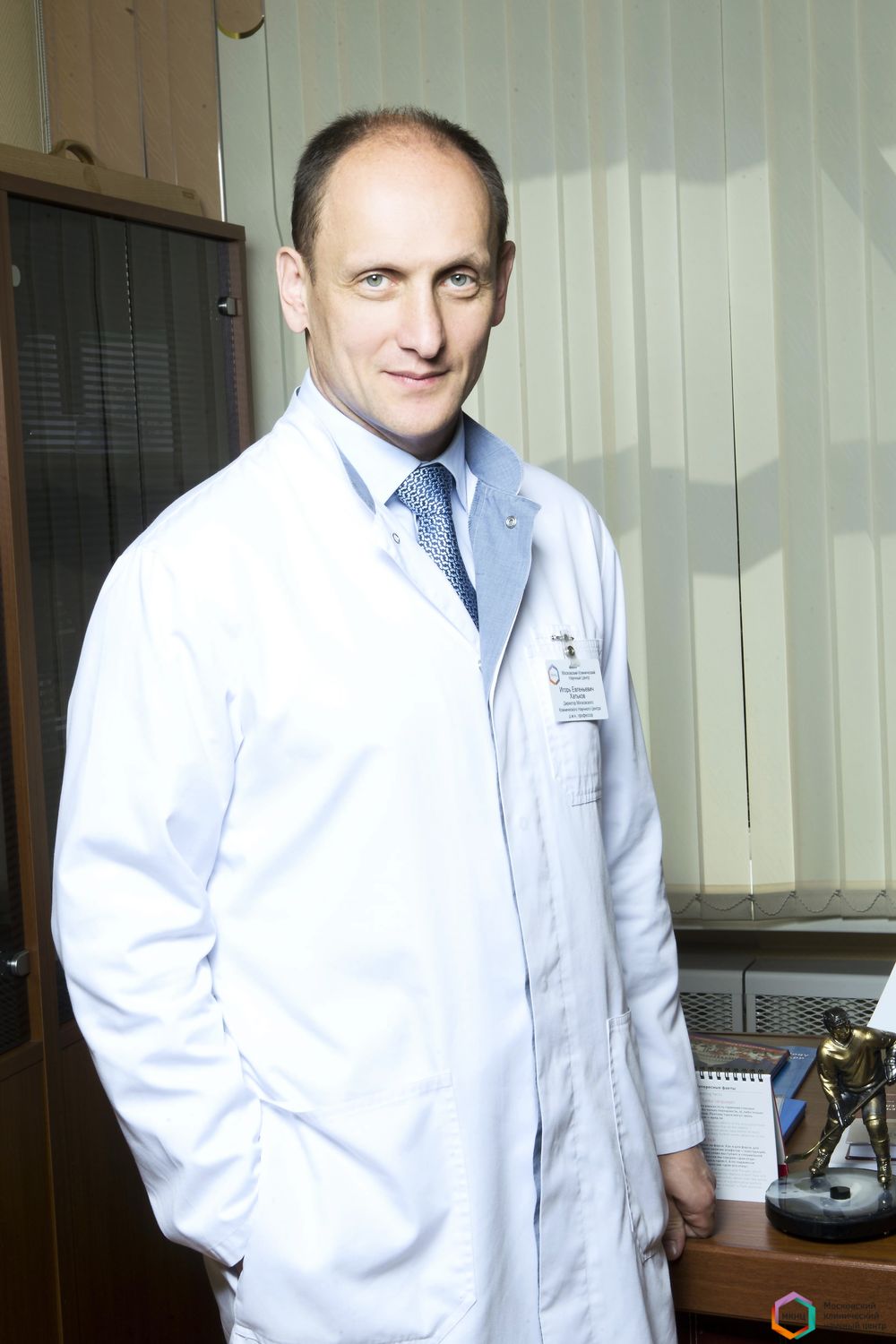 Surgeon
Director of the MCSC
Руководство
Position:
Director of the State Medical Institution "Moscow Clinical Scientific and Practical Center named after A. S. Loginov DZM", Chief freelance specialist-oncologist of the Moscow Department of Health, Head of the Department of Faculty Surgery of the Medical Faculty of Moscow State Medical University, Corresponding Member of the Russian Academy of Sciences, MD, Professor
Qualification category: higher school
Certificates: health organization, surgeon, oncologist.
Author of more than 245 publications, 6 monographs, 7 teaching aids, 4 patents and 2 co-authorships in European surgical manuals.
Surgical experience:
Expert in laparoscopic abdominal surgery and oncology with the maximum use of minimally invasive technologies, including interventions on the pelvic organs and retroperitoneal space.
Professor Igor E. Khatkov is one of the pioneers in laparoscopic surgery in oncology in Russia (surgery of the stomach, pancreas, colorectal, urological and gynecological interventions). Has experience in performing robotic operations.
Professor Igor E. Khatkov performed laparoscopic pancreatoduodenal resection in Russia for the first time. Today, his experience in performing such operations is one of the greatest in the world.
Educational Background:
09.1984 – 06.1990 – Saratov State Medical University (SSMU). Diploma with honor.
09.1990 – 08.1992 – Resident of the Chair of Faculty Surgery of SSMU.
09.1992 – 08.1993 – Postgraduate Course on the Chair of Faculty Surgery of SSMU.
Courses:
02.1994 - 03.2014 - "Russian medical Academy of postgraduate education" of the Ministry of Healthcare of the Russian Federation - program «Surgery»
05.2016 – 06.2016 – MSMSU n.a. A.I. Evdokimov of the Ministry of Healthcare of Russia at the Department of public healthcare.         
Advanced professional courses:
1993 - "Emergency medicine", Moscow City Hospital named after S.P. Botkin.
1994 - "Surgical Laparoscopy", Surgical Chair of Russian State Medical University (RSMU).
1995 - "Surgery of the Stomach and Esophagus", Department of Abdominal Surgery of Scientific Surgical Centre of Russian Medical Science Academy.
1996 – Surgical course in University Surgical Clinic in Minneapolis, USA.
1997 – "Punctional Biopsy of Internal Organs under Ultrasound Control", departments of ultrasound examination and surgical endocrinology of Central Railway Ministry Clinical Hospital №2, Moscow, Russia.
1998, 2005 – "Oncology", Moscow City Oncological Clinic and chair of Oncology of MSUMD. 
1999 – "Laparoscopic Surgery of Obesity", "Robotic Surgery" in St. Pierre Hospital, Brussels, Belgium. 
2002 – Short-term advanced surgical course in Hirslanden Group Clinic in Zurich, Switzerland.
2004 – Short-term advanced surgical course in Valerie Clinic in Syon, Switzerland
2006 – Short-term advanced surgical course in using of 3D Visualization System (Viking System) in the University of Uppsala, Sweden.
2009 – Da Vinci Surgical System off-Site Training Program for a Console Surgeon, IRCAD-EITS, Strasbourg, France
2009 – "Advanced Laparoscopic Procedures" at Clinic in Park, Zurich, Switzerland.
2016 - Meeting "Organization of cancer service" at the Memorial Sloane-Kettering Cancer Center, New York, USA
Professional Experiences
Professor Igor Khatkov is an expert in abdominal surgical oncology with the maximum use of minimally invasive technologies. Igor Khatkov is one of the founders of pancreatic laparoscopic surgery in oncology in Russia, having the experience in gastric, colorectal surgery. He was pioneer in using of laparoscopic approach for urologic and gynecologic surgical procedures in oncological patients, also.
During last 15 years the main point of his practical and scientific interests is pancreatic surgery. Professor Igor Khatkov was the first to perform laparoscopic pancreatoduodenectomy in Russia in 2007. Now his personal experience in totally laparoscopic PDE is more than 400 cases and about 30 procedures with resection of mesenteric and portal veins.
Prof. Igor Khatkov together with his team holds systematic training courses in minimally invasive surgery in oncology which are well known and are attended by the surgeons from Russia, and many European and Asian countries. Igor Khatkov has a big experience in participating in European, Asian-Pacific and World meetings with lectures and live surgery. He has the experience of performing live surgery in Germany, Italy, Serbia, Jordan and big experience in broadcasting of live surgery for different international meetings.
He has awards for the best talks on laparoscopic surgery in cancer patients on the EAES and South Korean congresses.
The Center headed by Igor Khatkov is included in the list of expert training centers of the European Association of Endoscopic Surgery (EAES).
Igor Khatkov participates as an expert in international committees and study groups for developing the recommendations in pancreatic surgery. His scientific works are published in international and national journals: Annals of Surgery, Annals of HPB Surgery, Surgical Endoscopy, Endoscopic Surgery, Surgical Oncology, Pancreatology, Coloproctology, etc.
Professional Organizations
President of Russian Pancreatic Club, member of Innovation and Development Committee of the International Association of Hepato-Pancreato-Biliary Surgery (IНPBА), member of the board of Russian Society for Endoscopic Surgery, member of the board and honorary member of Society of Hepatobiliary and Pancreatic Surgeons of CIS countries, member of the European Association of Endoscopic Surgery (EAES).
In 2021 prof. Khatkov was elected as Honorary Fellow of American Surgical Association (ASA).
Main Scientific Publications
Published scientific works – 392, the co-author of the European guidelines on surgery – 2 (Emergency Surgery Course, 2016, Surgical Principles of Minimally Invasive Procedures, 2017), 8 monographs, 14 methodical manuals, 6 patents.
The most important published scientific works:
Learning curve of three European centers in laparoscopic, hybrid laparoscopic, and robotic pancreatoduodenectomy. Surg Endosc. 2022.

Designing the European registry on minimally invasive pancreatic surgery: a pan-European survey. HPB (Oxford). 2021.

Predictors for Survival in an International Cohort of Patients Undergoing Distal Pancreatectomy for Pancreatic Ductal Adenocarcinoma. Ann Surg Oncol. 2021.

Laparoscopic versus open extended radical left pancreatectomy for pancreatic ductal adenocarcinoma: an international propensity-score matched study. Surg Endosc. 2021.

Evidence for diagnosis of early chronic pancreatitis after three episodes of acute pancreatitis: a cross-sectional multicentre international study with experimental animal model. Sci Rep. 2021.

A randomized prospective study of the immediate outcomes of the use of a hydro-jet dissector and an ultrasonic surgical aspirator for laparoscopic liver resection. HPB (Oxford). 2021.

Risk of conversion to open surgery during robotic and laparoscopic pancreatoduodenectomy and effect on outcomes: international propensity score-matched comparison study. Br J Surg. 2021.

Updated Alternative Fistula Risk Score (ua-FRS) to Include Minimally Invasive Pancreatoduodenectomy: Pan-European Validation. Ann Surg. 2021

Outcomes After Minimally Invasive Versus Open Total Pancreatectomy: A Pan-European Propensity Score Matched Study. Ann Surg. 2021.

Perioperative omega-3 fatty acids fail to confer protection in liver surgery: Results of a multicentric, double-blind, randomized controlled trial. J Hepatol. 2020.

Outcomes After Minimally-invasive Versus Open Pancreatoduodenectomy: A Pan-European Propensity Score Matched Study. Ann Surg. 2020.

Pancreatic Hydatid Cyst Misdiagnosed as Mucinous Cystadenoma: CT and MRI Findings. Medicina (Kaunas). 2020.

The Miami International Evidence-based Guidelines on Minimally Invasive Pancreas Resection. Ann Surg. 2020.

Percutaneous radiofrequency-assisted liver partition versus portal vein embolization before hepatectomy for perihilar cholangiocarcinoma. BJS Open. 2020.

Standards for reporting on surgery for chronic pancreatitis: a report from the International Study Group for Pancreatic Surgery (ISGPS). Surgery. 2020.

Prognostic relevance of preoperative bilirubin-adjusted serum carbohydrate antigen 19-9 in a multicenter subset analysis of 179 patients with distal cholangiocarcinoma. HPB (Oxford). 2019.

Minimally Invasive versus Open Distal Pancreatectomy for Ductal Adenocarcinoma (DIPLOMA): A Pan-European Propensity Score Matched Study. Ann Surg. 2019.

Development of autoimmune pancreatitis is independent of CDKN1A/p21-mediated pancreatic inflammation. Gut. 2018.
International Summit on Laparoscopic Pancreatic Resection (ISLPR) "Coimbatore Summit Statements". Surg Oncol. 2018.
Сертификат 06772441549385 от 13011970