Alexandrova Elena Nikolaevna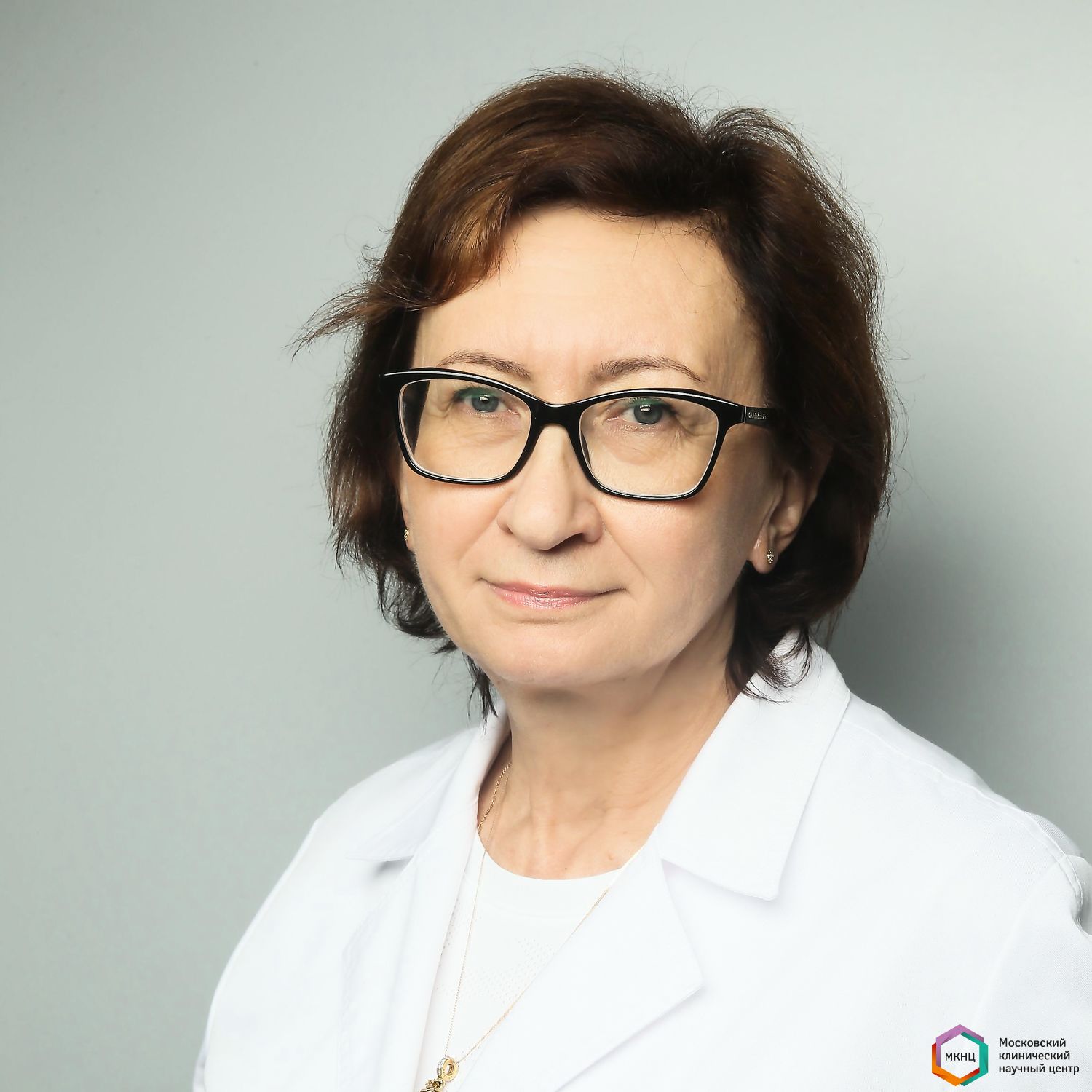 Head of laboratory
Клинической иммунологии, лаборатория фундаментальных исследований
Education:
In 1979, she graduated with honors from the 1st Moscow Medical Institute named after I. M. Sechenov, majoring in "Medical science".
1979-1981. she was trained in clinical residency in the specialty "laboratory science" at the 1st Moscow Medical Institute named after I. M. Sechenov
1981-1984-postgraduate studies in the specialty "Rheumatology" at the Central Research Laboratory of the Fourth Main Directorate under the Ministry of Health of the USSR
In 1985, she defended her PhD thesis on the topic: "Cellular cytotoxic reactions in rheumatic diseases»
In 2008, she defended her doctoral dissertation on the topic: "Immunological characteristics of antiphospholipid syndrome»
Work experience:
1984-1987-Junior researcher at the Clinic of Nephrology and Immunology of the Central Research Institute of the Fourth Main Department under the Ministry of Health of the USSR
1987-2003-Junior Researcher, Research Associate, Senior Researcher at the Laboratory of Clinical Immunology of the Myasnikov Institute of Clinical Cardiology of the Russian Academy of Medical Sciences of the Russian Federation
2003-2017-Leading Researcher, Head of the Laboratory of Immunology and Molecular Biology of Rheumatic Diseases, V. A. Nasonova Research Institute of Rheumatology
From 2018 to the present - Leading researcher, Head of the Laboratory of Clinical Immunology of the Moscow State Research Center named after A. S. Loginov

Doctor of clinical laboratory diagnostics of the highest category, work experience in the specialty of 35 years
Academic degree: doctor of Medical Sciences

Main areas of activity:
Study of molecular and cellular mechanisms of inflammation and autoimmunity; development of multiplex methods for the analysis of laboratory biomarkers of immuno - mediated diseases based on proteomic technologies; early immunodiagnostics of rheumatic diseases (rheumatoid arthritis, systemic lupus erythematosus, systemic scleroderma, systemic vasculitis, ankylosing spondylitis, etc.), autoimmune liver lesions, inflammatory bowel diseases, autoimmune endocrine and neuropathies; determining the role of laboratory biomarkers in predicting the activity, severity, and course of immuno-inflammatory diseases and evaluating the effectiveness of pharmacotherapy (including the use of genetically engineered biological drugs)
Membership in professional associations:
Expert of the Russian Academy of Sciences
Member of the Dissertation Council D 001.018.01 (14.01.22 - "Rheumatology" medical sciences) of the V. A. Nasonova Research Institute of Medical Sciences
Member of the Editorial Board of the journal "Scientific and Practical Rheumatology»
Member of the Association of Specialists and Organizations of the Laboratory Service "Federation of Laboratory Medicine"; National Association of Laboratory, Personalized and Translational Medicine; Association of Rheumatologists of Russia
Scientific supervisor of 2 defended PhD theses; scientific consultant of 1 defended doctoral dissertation

Publications:
575 printed scientific papers. 12 collective monographs: "Vascular pathology in antiphospholipid syndrome (clinic, diagnosis, treatment)" (1995), " Vasculitis and vasculopathy "(1999), "Antiphospholipid syndrome" (2004), "Rheumatology: national guidelines" (2008), " Laboratory in a modern clinic. View of the leading clinicians of Russia" (2010), "Rheumatology: Clinical recommendations" (2010), "Modern standards of laboratory diagnostics of rheumatic diseases" (2005, 2012), "Anti-B-cell therapy in rheumatology: focus on rituximab" (2012)," Genetically engineered biological drugs in the treatment of rheumatoid arthritis "(2013), " Laboratory diagnostics of infectious diseases. Handbook "(2013), " Russian clinical guidelines. Rheumatology" (2017)

The H-index is 18 (according to the RSCI).
Сертификат 0177242613900 от 17021970