Novikov Alexander Alexandrovich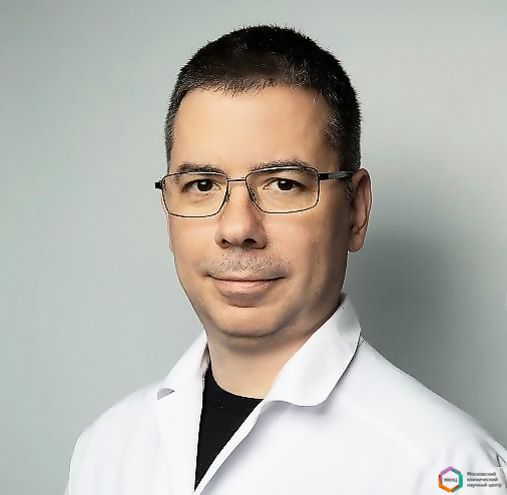 Клинической иммунологии, лаборатория фундаментальных исследований
Education:
In 1996, he graduated from the Biology and Chemistry Department of the V. I. Lenin Moscow State Pedagogical University with a degree in Biology"
In 2003, he defended his PhD thesis on the topic: "Immunological aspects of antiphospholipid syndrome»
In 2015, he defended his doctoral dissertation on the topic: "Multiparametric analysis of laboratory biomarkers in the diagnosis of rheumatoid arthritis»
Work experience:
1999-2003-Research laboratory Assistant, Junior Researcher at the Laboratory of Clinical Immunology, Russian Cardiology Research and Production Complex of the Ministry of Health of the Russian Federation
2004-2016-Junior Researcher, Senior Researcher, Senior Researcher, Leading Researcher at the Laboratory of Immunology and Molecular Biology of Rheumatic Diseases, V. A. Nasonova Research Institute of Biological Sciences
2016-2017-Head of the Department of Clinical Laboratory Diagnostics of the V. A. Nasonova Research Institute of Medical Sciences
From 2018 to the present – Senior Researcher, Leading researcher of the Laboratory of Clinical Immunology of the Moscow State Research Center named after A. S. Loginov 
Academic degree: Doctor of Biological Sciences
Main areas of activity: 
Study of molecular and cellular mechanisms of inflammation and autoimmunity; development of multiplex methods for the analysis of laboratory biomarkers of immuno - mediated diseases based on proteomic technologies; early immunodiagnostics of rheumatic diseases (rheumatoid arthritis, systemic lupus erythematosus, systemic scleroderma, systemic vasculitis, ankylosing spondylitis, etc.), autoimmune liver lesions, inflammatory bowel diseases, autoimmune endocrine and neuropathies; determining the role of laboratory biomarkers in predicting the activity, severity, and course of immuno-inflammatory diseases and evaluating the effectiveness of pharmacotherapy (including the use of genetically engineered biological drugs).
Expert of the Russian Academy of Sciences
Head of the Committee on work with Clinicians of the Association of Specialists and Organizations of the Laboratory Service " Federation of Laboratory Medicine»
Member of the Dissertation Council D 208.072.08 (14.03.10 – clinical laboratory diagnostics (biological sciences)) of the Pirogov Russian National Research Medical University of the Ministry of Health of the Russian Federation
Member of the Editorial Board of the journal " Vestnik RNIMU»
Member of the National Association of Laboratory, Personalized and Translational Medicine; Association of Rheumatologists of Russia
International activities:
Member of the Editorial Board of the journal " Rheumatology International»
Publications:
325 printed scientific papers. 7 collective monographs: "A laboratory in a modern clinic. View of the leading clinicians of Russia" (2010), "Rheumatology: Clinical recommendations" (2010), "Modern standards of laboratory diagnostics of rheumatic diseases" (2005, 2012), "Anti-B-cell therapy in rheumatology: focus on rituximab" (2012)," Genetically engineered biological drugs in the treatment of rheumatoid arthritis "(2013), " Laboratory diagnostics of infectious diseases. Handbook "(2013), " Russian clinical guidelines. Rheumatology" (2017)
The H-index is 16 (according to the RSCI).