Natalia V. Nesterova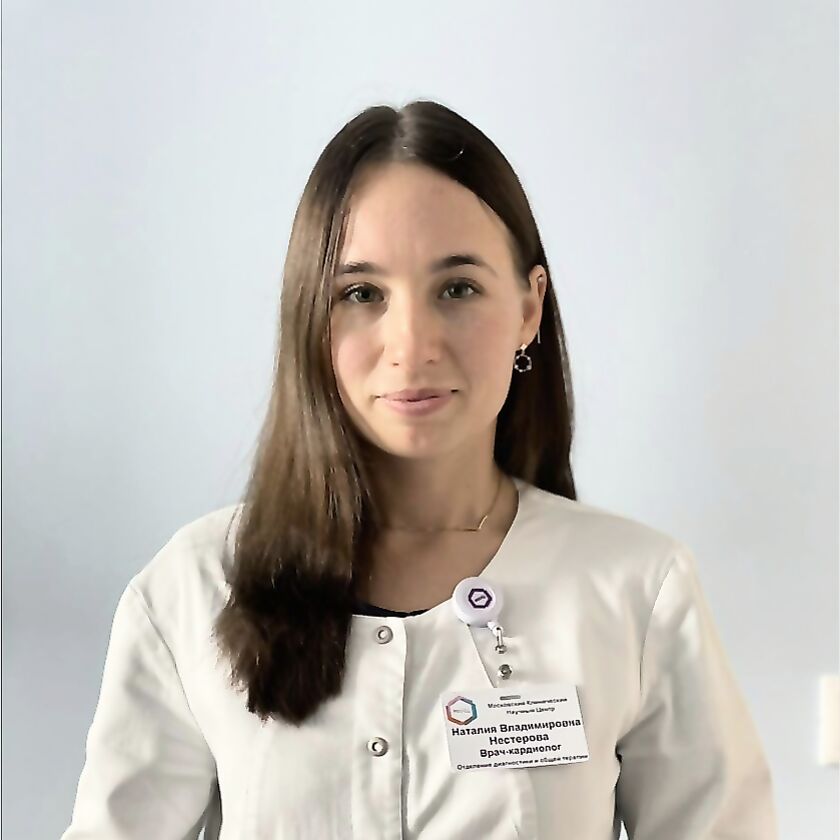 Cardiologist, Therapist
Branch of MCSC named after A. S. Loginov on Pavlov
Cardiologist Department of Diagnostics and General Therapy
Education
2009-2015 - N. I. Pirogov Russian National Research Medical University, Moscow
Medical faculty, Medical business
Professional development
2016-Internship, I. N. Pirogov RNIMU, Therapy, State Clinical Hospital No. 24
2017-General Practitioner, N. I. Pirogov State Medical University, General Practitioner (family doctor)
2017-Cardiologist, Federal State Autonomous Educational Institution of Higher Education, Peoples ' Friendship University of Russia.
Work experience
2017-2019-General practitioner at KDC No. 6, branch 1, GP 138
2019-Cardiologist in the Cardiology Department of the State Clinical Hospital No. 24
2020-General practitioner in K31 City
2020 - General practitioner in DC 3
2020-present-General practitioner at the Loginov Moscow Medical Research Center
Certificates  
General practitioner, General Practitioner, Cardiologist
Skills and abilities
The ability to navigate in any situation and make independent decisions.
Knowledge of modern principles and methods of diagnosis and treatment of diseases.
Experience of receiving patients with diseases of the lungs, gastrointestinal tract, kidneys, and ZSSS.
Professional interests
Modern methods of diagnosis and treatment
diseases of the gastrointestinal tract (GERD, gastritis, duodenitis, gallstone disease, biliary dyskinesia, Gilbert's disease, dyspepsia, intestinal dysbacteriosis, fatty hepatosis, constipation, diarrhea, management after cholecystectomy)
diseases of the cardiovascular system (hypertension, angina, chest pain, ),
respiratory system (ARVI, tracheitis, bronchitis,pneumonia, bronchial asthma)
anemia
diseases of the spine (osteochondrosis)
joint diseases (gout, arthrosis, arthritis)
kidney diseases (pyelonephritis, cystitis, urolithiasis
diseases of the cardiovascular system
Participation in conferences
2017,2018,2020-National Congress of Therapists
2018,2019-Scientific and Practical Conference " Nesterov Readings»
Сертификат 0177240965782 от 26121970
Price list
| | |
| --- | --- |
| #1-22 Прием (осмотр, консультация) врача-кардиолога первичный | 3700 руб |
| #1-95 Прием (осмотр, консультация) врача-кардиолога повторный | 2600 руб |
Не является офертой