Gilvanova Olga Valeryevna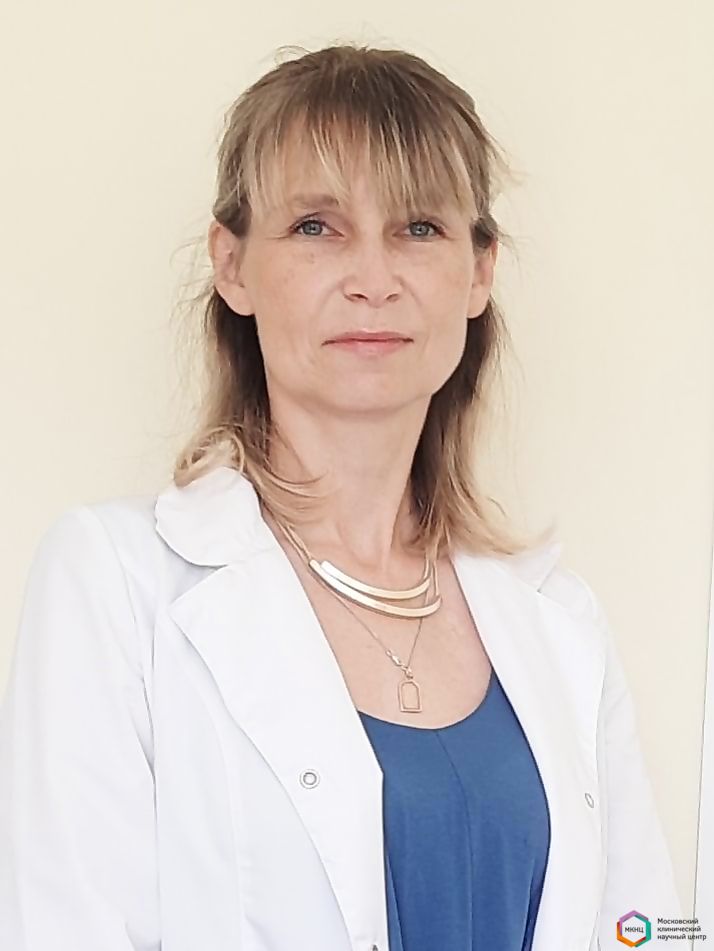 Functional diagnostics
Head of department
Center of neuromuscular pathology
Head of the department, doctor of functional diagnostics, specialist in electromyography and neuromuscular diseases
Education:
1997-graduated with honors from the Moscow Medical Dental Institute with a degree in medicine
1997-1999-residency in functional diagnostics of MMSI, Primary Specialization in neurology and electromyography
2001, 2008, 2013, 2018-advanced training in the specialties "functional diagnostics" and "Neurology"
Internships:
 XX International SFEMG & QEMG course (2012)
Educational activities:
From 2003 to the present – conducts advanced training courses for doctors in electromyography, master classes and educational lectures on electromyography and neuromuscular pathology
2012-master class on neuromuscular pathology at the Congress of neurologists "complex cases of diagnosis of Neuromuscular Diseases"
She has repeatedly participated in Russian and international conferences and congresses of neurologists as a speaker.
Co-author:
L. F. Kasatkina, O. V. Gilvanova. Electromyographic research methods in the diagnosis of Neuromuscular Diseases. Needle electromyography. - M.: Medika, 2010 – - 416 P., ill.
Neurology. National leadership. Edited by E. I. Gusev, A. N. Konovalov, V. I. Skvortsova, A. B. Gekht-2009. Article "Polyneuropathies" pp. 334-346 and Article "myopathies" pp. 420-448
Activities:
Health department consultant on electromyography
Compiler of the electromyography nomenclature for EMIAS and FSIDI
Member of the All-Russia Society of neurologists
Member of the Society of Neuromuscular Diseases
Member of "Association of clinical neurophysiologists ASKLIN"
Research interests diseases of the neuromuscular system, electromyography, jitter
Diseases of motor neurons
Amyotrophic lateral sclerosis, spinal muscular atrophy, consequences of poliomyelitis, post-poliomyelitis syndrome
Diseases of nerves and plexuses
Neuropathies, Guillain-Barre syndrome, chronic inflammatory demyelinating polyneuropathy, diabetic polyneuropathy, POEMS syndrome, hereditary motor-sensory polyneuropathy (Charcot-Marie-Toots disease), fine fiber neuropathy, tunnel neuropathies, carpal tunnel syndrome, neuropathy with a tendency to compression paralysis, multiple mononeuropathies, multifocal motor neuropathy with conduction blocks, Sumner syndrome-Lewis, personage-Turner syndrome, post-traumatic plexopathy and neuropathy
Diseases of neuromuscular synapses
Myasthenia gravis, Lambert-Eaton syndrome, EMG diagnosis of botulism
Muscle diseases
Myopathy, progressive muscular dystrophy in adults, inflammatory myopathy, myositis with inclusions, myotonia (dystrophic myotonia, congenital myotonia)