Dashkina Nuria Adgamovna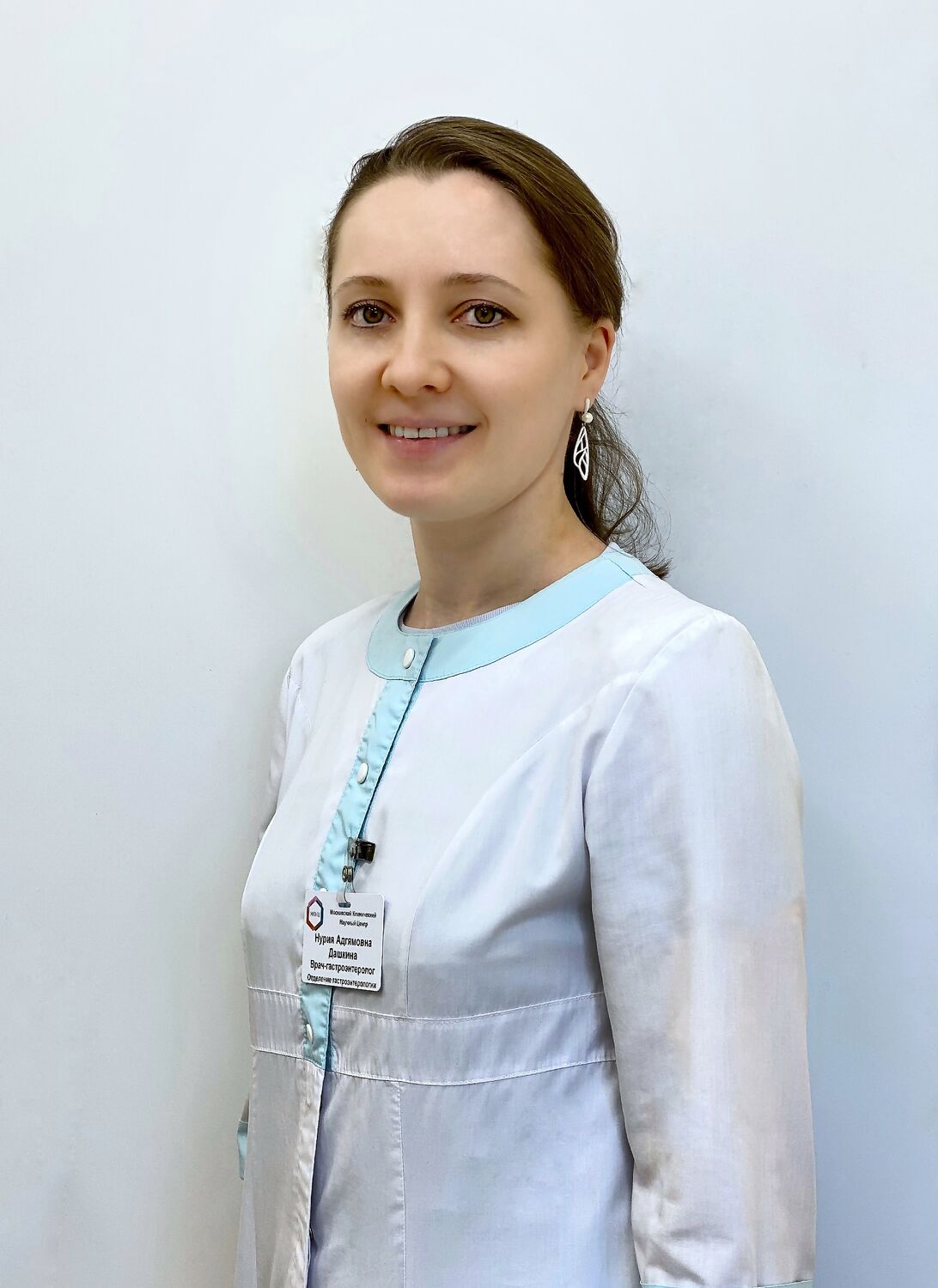 Gastroenterologist
Branch of MCSC named after A. S. Loginov on Pavlov
Gastroenterologist
Gastroenterology department
Education: 
2008-2012-GBOU SPO Mo "Orekhovo-Zuyevsky Medical College". Specialty: "medical business"
2012-2019-Moscow State Medical and dental university named after A. I. Evdokimov. Specialty "medical business"
2019-primary accreditation in the specialty of a medical doctor (district general practitioner)
2019-2021-clinical residency in the specialty "Gastroenterology" on the basis of the MCSC named after A. S. Loginov 
2021-accreditation in the specialty"gastroenterologist"
Work experience:
2014-2021-FSAU of the Ministry of health of the Russian Federation National Medical Research Center for children's health. Gastroenterology department with Hepatology group, position: post nurse.
2020-district general practitioner in GP No. 132, part-time.
2021-gastroenterologist of GBUZ MCSC named after A. S. Loginov dzm
Certificate in gastroenterology.  

Professional interests:
Modern methods of diagnosis and treatment of gastrointestinal diseases
gastroesophageal reflux disease
peptic ulcer of the stomach and duodenum
cholelithiasis
postcholecystectomy syndrome
diseases of the pancreas
cirrhosis of the liver
autoimmune hepatitis
Crohn's disease
ulcerative colitis
Participation in conferences:
2019, 2020 - 45th and 46th scientific gastrosession of TSNIIG.
 
Price list
| | |
| --- | --- |
| #1-1 Прием (осмотр, консультация) врача-гастроэнтеролога первичный | 3700 руб |
| #1-2 Прием (осмотр, консультация) врача-гастроэнтеролога повторный | 2600 руб |
Не является офертой