Tokmakova Albina Arsenovna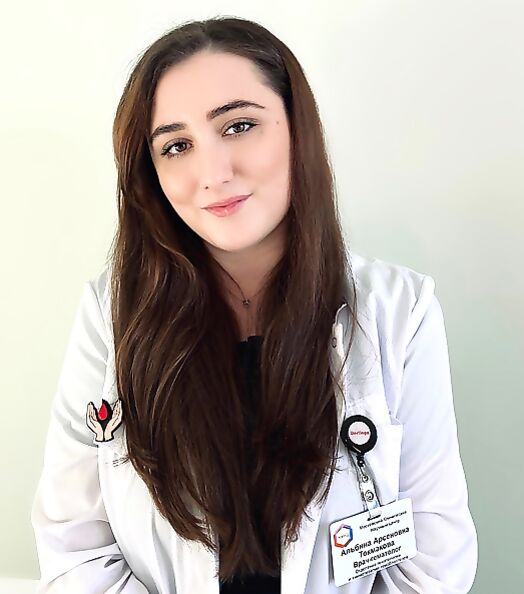 Hematologist
Department of Hematology and hemoblastosis chemotherapy
2013-2019-Kabardino-Balkar State University named after Kh. m. Berbekov, Faculty of Medicine. 
2019-primary accreditation in the specialty "general practitioner".  
2019-2021-residency in Hematology, Moscow clinical research center A. S. Loginov dzm
Work experience: 
Since 2021, he has been a hematologist at the Department of Hematology and chemotherapy of hemoblastoses of the A. S. Loginov-Pavlov MCSC.  
Certificate in therapy, certificate in hematology 
Activities:
she actively works with patients in the hospital department for the treatment of diseases of the blood system, oncohematological diseases with standard courses and high-dose therapy. 
Owns medical manipulations:
sternal puncture, trepanobiopsy, lumbar puncture. Constantly improves his special knowledge and practical skills.
Email address:
a.tokmakova@mknc.ru 
Hematologist
Department of Hematology and hemoblastosis chemotherapy
Education: 
2013-2019-Kabardino-Balkar State University named after Kh. m. Berbekov, Faculty of Medicine. 
2019-primary accreditation in the specialty "general practitioner".  
2019-2021-residency in Hematology, Moscow clinical research center A. S. Loginov dzm
Work experience: 
Since 2021, he has been a hematologist at the Department of Hematology and chemotherapy of hemoblastoses of the A. S. Loginov-Pavlov MCSC.  
Certificate in therapy, certificate in hematology 
Activities: she actively works with patients in the hospital department for the treatment of diseases of the blood system, oncohematological diseases with standard courses and high-dose therapy. 
Owns medical manipulations: sternal puncture, trepanobiopsy, lumbar puncture. Constantly improves his special knowledge and practical skills.
Email address: a.tokmakova@mknc.ru