Makovsky Alexey Andreevich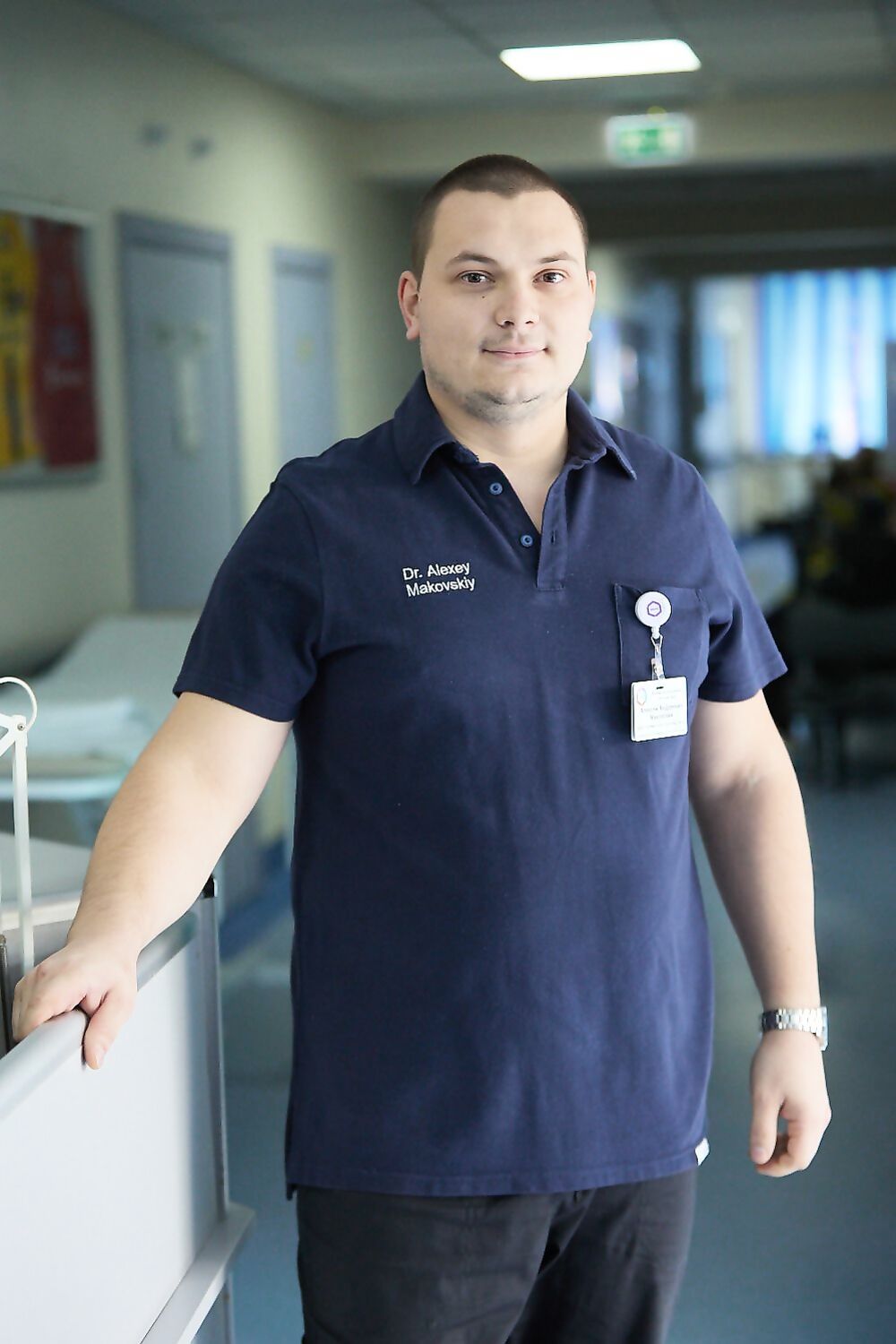 Traumatologist-orthopedist
Отделение ортопедии и сложной травмы
Education:
Higher education, specialty, residency, postgraduate Moscow State University named after M. V. Lomonosov (Faculty of fundamental medicine), year of graduation 2015
Work experience    
2017-to the present day GBUZ MCSC named after A. S. Loginov dzm, Department of orthopedics and complex trauma
2021-present GBUZ treatment and rehabilitation center of the Ministry of economic development of Russia (Division on the tablecloth)
Professional skills
Arthroscopic manipulations on the shoulder and knee joints;
Hip and knee replacement;
Extra - and intramedullary osteosynthesis of tubular bones;
Bone-plastic reconstructions for flat feet;
Conservative treatment of skeletal fractures;
Conservative management of damage to the ligamentous apparatus of joints, sprains, injuries of ligaments and tendons, menisci, cartilage of articular surfaces, synovitis;
Conservative treatment of arthrosis of large joints;
Conservative management of aseptic necrosis (conditions) of various parts of the musculoskeletal system;
Conservative treatment of osteochondrosis of the spine;
Surgical treatment of injuries of the knee joint and intra-articular structures: arthroscopic resection of the meniscus, suture of the meniscus, plastic ligaments, plastic cartilage defects, stabilization of the patella in various ways; osteotomies around the knee joint; primary and revision endoprosthetics of the knee joint
Surgical treatment of injuries of the shoulder joint and intra-articular structures: arthroscopic fixation of the articular lip, tendons, rotator cuff; stabilization of the shoulder joint in various ways, endoprosthetics of the shoulder joint
Arthroscopic and open interventions on other joints – elbow, ankle, wrist 
Hip replacement primary and revision
Osteosynthesis in skeletal fractures
Foot surgery: corrective surgery to correct the flat-valgus deformity of the foot( flat feet), removal of the "bump on the fingers", correction of the" hammer-like " deformation of the fingers
Hand surgery: osteosynthesis of fractures, contractures, tendon damage.
Internships:  
Visiting Surgeon Programme Total Knee Replacement GENESIS II.
University Hospital 12 de Octubre, Madrid, Spain 18-19.
Completed courses:    
It's all about the shoulder. Surgical techniques. Shoulder through the eyes of a rehabilitologist. All about superficial cartilage defects. August 21-22, 2020
Instruction course Arthromost 2018. The latest technologies of arthroscopic surgery/sports orthopedics/rehabilitation.
International Conference arthromost 2017. Modern technologies in arthroscopy. 2 December 2017
Arthroscopic surgery of the shoulder joint. Basic Course. 16-19 February 2017.
School of young traumatologists-orthopedists of Moscow. November 2016-July 2017
Master class "arthroscopy of the shoulder joint". April 29, 2016
Arthroscopic surgery: innovative technologies for the treatment of the knee joint. Basic Course. 11-20 March 2016.
A modern view on the surgical treatment of fractures of the distal metaepiphysis of the radius. Bauman State Library No. 29, November 18-19, 2015
Introduction to microsurgery. MOC "University Clinic" Lomonosov Moscow State University, October 30-31, 2015.
Cadaver courses on arthroscopy of the shoulder and knee joints
Cadaver courses on endoprosthetics of large joints
Scientific activity:
He is the author of 4 scientific articles, 2 theses. 
Price list
| | |
| --- | --- |
| #1-62 Прием (осмотр, консультация) врача-травматолога-ортопеда первичный | 4000 руб |
| #1-63 Прием (осмотр, консультация) врача-травматолога-ортопеда повторный | 3000 руб |
Не является офертой