Lakhno Dmitry Aleksandrovich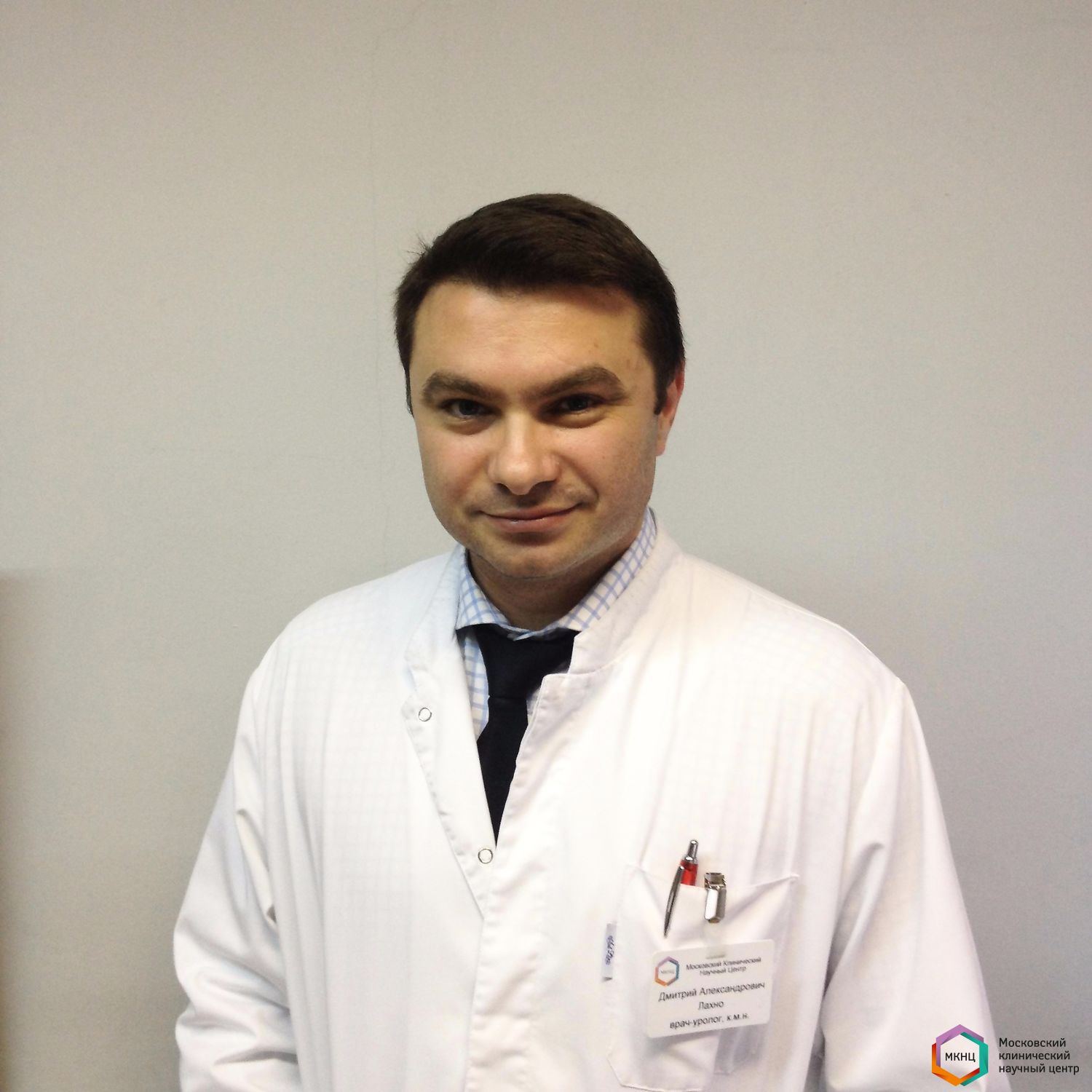 Oncologist, Urologist
Отделение урологии
Education: 
1993-1999-Medical Faculty, N. I. Pirogov Russian National Medical University, Moscow.
1999-2001-City clinical residency in Urology at GKB No. 60.
2001-2004 Clinical postgraduate course in Urology at the Department of Gerontology and Geriatrics of the Russian Academy of Medical Sciences. 
Experience: 2004-2013-inpatient practice at the Urology Department of the State Clinical Hospital No. 60. He has a full range of endoscopic techniques and laser surgery in urology. Performs a comprehensive urodynamic study (CUDI).

Diplomas, certificates: Candidate of Medical Sciences. Doctor of the highest category. The GCP certificate.

Clinical work: kidney tumor / cyst, prostate adenocarcinoma (cancer), benign prostatic hyperplasia, bladder tumor, varicocele, hydrocele/spermatocele, urolithiasis, inflammatory diseases of the genitourinary organs, STIs.

Professional development:
2014 - course "Percutaneous surgery of urolithiasis" (Sechenov Moscow State Medical University).
2014-Intensive course in Laparoscopic Urology at IRCAD (University of Strasbourg, France).
2017-Intensive training on laser enucleation of the prostate gland.
(HoLEP). Auguste-Victoria Klinikum Vivantes Berlin under the direction of Dr. K. Lechrich. 
2018 - course "Neuro-urology" of the N. I. Pirogov Russian National Research University of the Ministry of Health of the Russian Federation.
2020-Master class on muscle-invasive bladder cancer (NMIBC20) Prague, Czech Republic  
Membership in societies:

Member of the Russian Society of Urologists (ROE), the European Association of Urologists (EAU). Russian Society of Oncourologists (ROOU).
Price list
| | |
| --- | --- |
| #1-91 Прием (осмотр, консультация) врача- уролога, к.м.н. первичный | 4600 руб |
| #1-92 Прием (осмотр, консультация) врача- уролога, к.м.н. повторный | 3400 руб |
Не является офертой