Shaposhnikova Natalia Aleksandrovna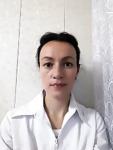 Education:
2003 - Moscow State Medical and Dental University, specialty "Medical care".
2003-2005 residency in the specialty "gastroenterology" on the basis of the TSNIIG.
Titles: Candidate of Medical Sciences (2008). Gastroenterologist of the first category.
Clinical work: doctor-gastroenterologist of the KDO MCSC.
Scientific work: more than 15 printed works.