Yegshatyan Lilit Vanikovna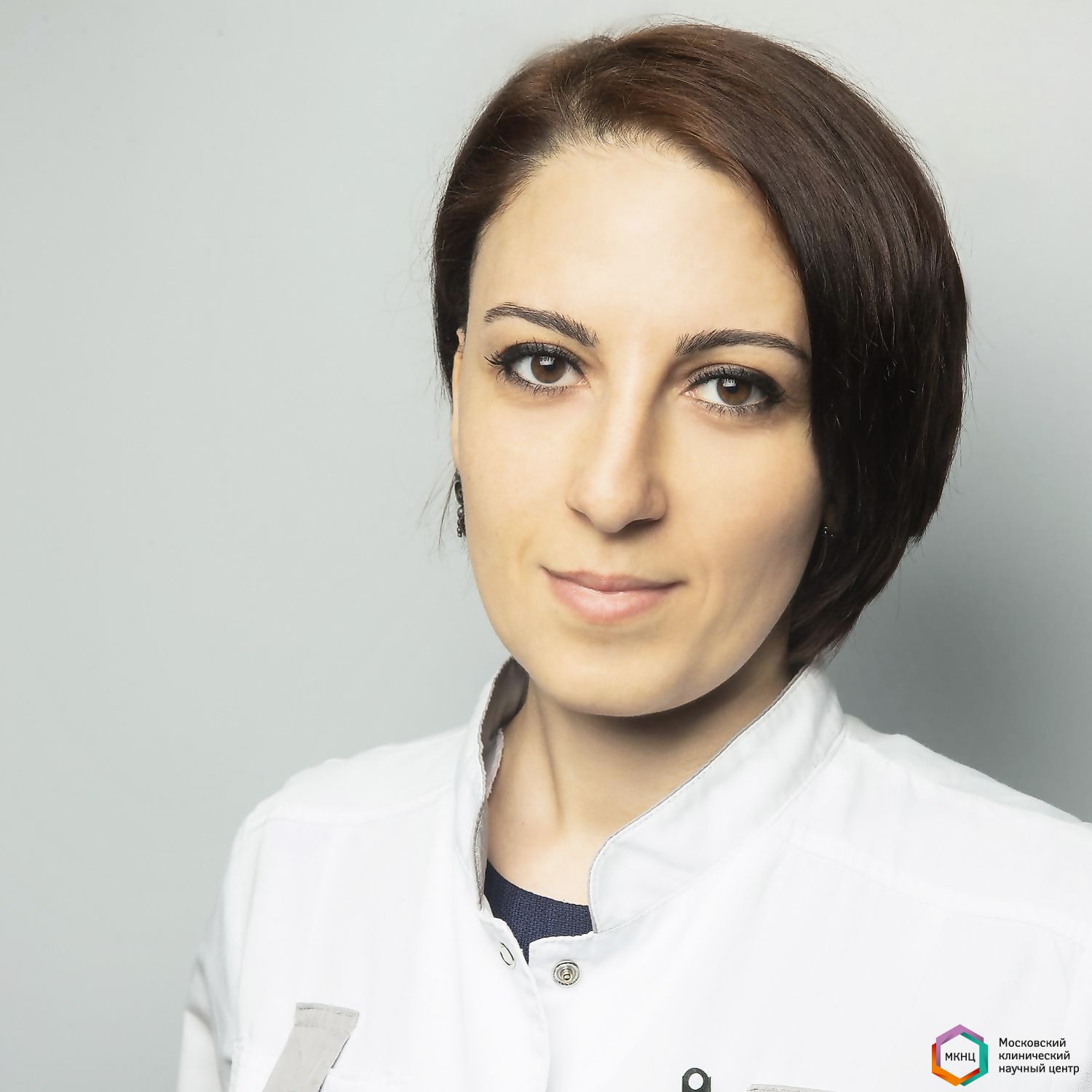 Endocrinologist
Эндокринологическое отделение
Titles:
candidate of Medical Sciences, in 2012 he defended his PhD thesis on the topic: "The effectiveness of therapeutic and surgical treatment of secondary hyperparathyroidism in patients receiving renal replacement therapy with program hemodialysis".
Work experience: 12 years
Since 2008, he has been engaged in disorders of phosphorus-calcium metabolism in patients with chronic kidney disease (predialysis, dialysis stages and after kidney transplantation) in the National Research Center of Endocrinology.
From 2011 to 2013, she studied hormonal and metabolic disorders (phosphorus-calcium, carbohydrate, lipid, purine metabolism) in patients with urolithiasis at the Research Institute of Uronephrology and Human Reproductive Health of the I. M. Sechenov Moscow State Medical University.
From 2013 to 2016, she studied the relationship between the composition of the intestinal microbiota and the indicators of the metabolic status of the macroorganism in the GNITS of Preventive Medicine.
Since 2014-Assistant of the Department of Endocrinology and Diabetology of the Moscow State Medical University named after A. I. Evdokimov
Participation in research and testing protocols:
participated in international, multicenter studies and in clinical testing protocols.
Membership in scientific societies:
From 2011 to 2013-Member of the International Society of Nephrology. Since March 2016-member of the medical society for the treatment of neuroendocrine tumors "MOLNEO". Since September 2017-Member of the Association of Endocrine Surgeons
Participation in training schools for patients:
lecturer at the "nephrological patient" schools held in different cities of the Russian Federation.
Participation in training schools for doctors:
lecturer at scientific and practical schools - "secondary hyperparathyroidism", " modern strategy of obesity therapy: from simple to complex»
Scientific works and publications:
Participates in the preparation of reviews of articles
Author of more than 85 scientific papers in domestic and foreign publications.
Co-author of textbooks: "Personalized endocrinology in clinical examples. Ed. by I. I. Dedov "2018." OSTEOPOROSIS. Training manual for doctors, clinical residents and interns "2018." Guide for doctors. Urolithiasis as an interdisciplinary problem". Edited by P. V. Glybochko, Yu. G. Alyaeva., 2015. Guide for doctors "Endocrinology". Edited by V. V. Potemkin. 2013.
Areas of work:
Disorders of phosphorus-calcium metabolism (primary hyperparathyroidism; secondary hyperparathyroidism, including in patients with chronic kidney disease; tertiary and post-transplant hyperparathyroidism; vitamin D deficiency; metabolic disorders; calciuria in the presence and absence of nephrolithiasis; hypocalcemia in the framework of hypoparathyroidism of various origins).
Disorders of carbohydrate metabolism: diabetes mellitus types 1 and 2, impaired glucose tolerance, impaired fasting glycemia.
Thyroid diseases (hypothyroidism, thyrotoxicosis, drug-induced thyropathies, nodular goiter, subacute / acute thyroiditis, postoperative management of patients with thyroid cancer).
Neuroendocrine diseases (Itsenko-Cushing's disease, acromegaly, diabetes insipidus, hyperprolactinemic syndrome, etc.)
Diseases of the adrenal glands (hormone-active, hormone-inactive formations, adrenal insufficiency)
Сертификат 0177180644153 от 02.07.2018