Zvenigorodskaya Flora Arsentyevna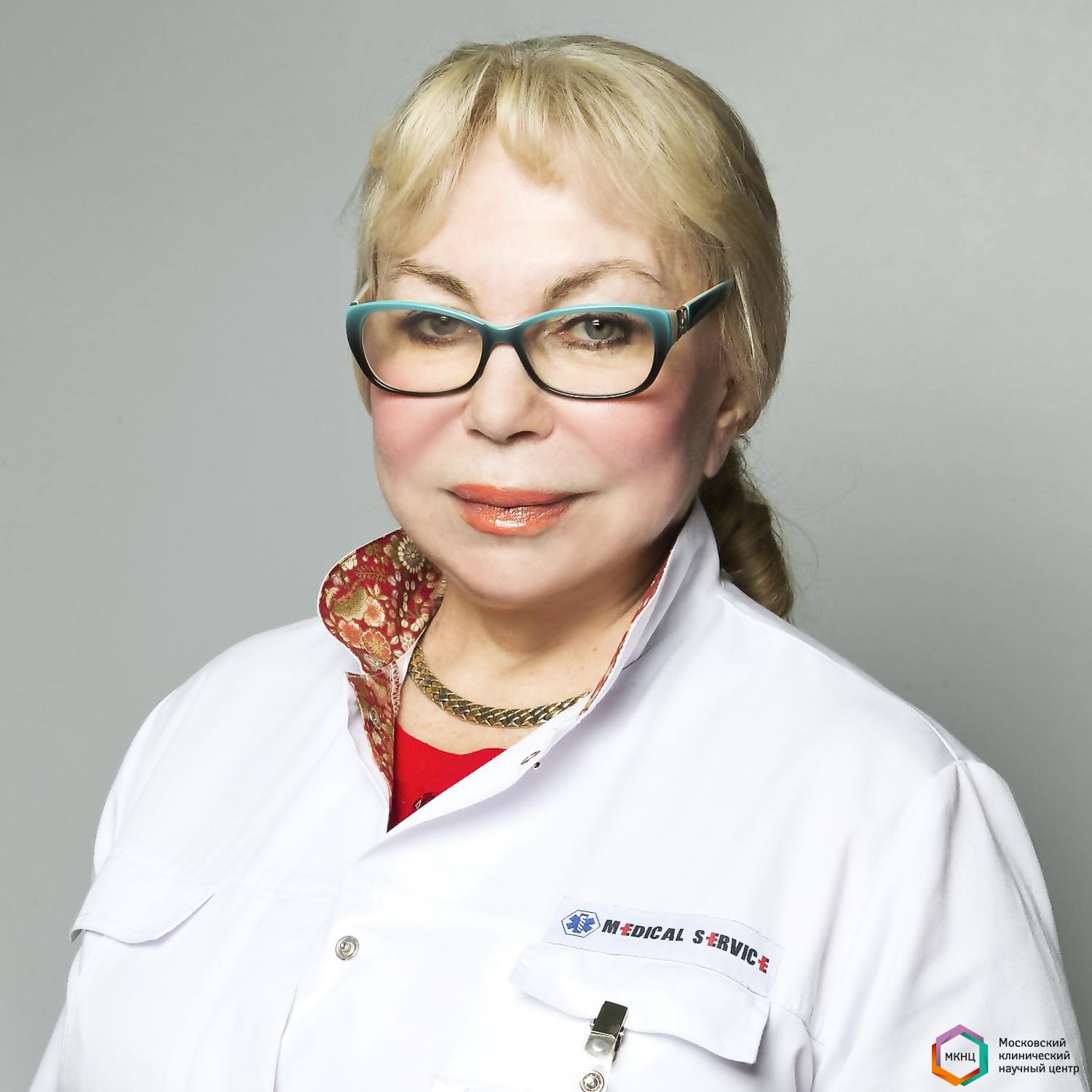 Эндокринологическое отделение
Position: Leading Researcher, Dmn., Professor. Honored Doctor of Russia
Work experience:
50 years of them 40 years in the MCSC named after A. S. Loginov In 1960. she graduated from high school with a gold medal and entered the Donetsk Medical Institute named after A.M. Gorky at the medical faculty, which she graduated with honors in 1966. After graduation, she worked in Irkutsk in the 6th City Clinical Hospital as a resident.
Scientific work:
In practical work, she defended her PhD thesis on the topic: "Contractile function of the myocardium and central hemodynamic parameters in patients with heart defects". In 1974, she moved to Moscow and worked in the 63rd City Clinical Hospital in the Cardiology department as a clinical resident.
He has been working at the MCSC named after A. S. Loginov since 1978, starting from the position of M. Sc. s. of the Department of Combined Diseases, S. sc. s., head. the department and the head of the department. In 1990, under the guidance of Academician A. S. Loginov, she defended her doctoral dissertation on the topic: "Functional state of the liver in patients with chronic circulatory insufficiency".
He is the author of 5 monographs ("Chronic ischemic disease of the digestive system", "Metabolic syndrome and digestive organs", "Metabolic syndrome in children and adolescents", "Atherosclerosis and digestive organs", "Immunotherapy" - chapter "Features of the treatment of peptic ulcer disease in the elderly").
Author of methodological recommendations: "Hypolipidemic therapy in patients with NAFLD", "Gastroesophageal reflux disease in patients with obesity: clinic, diagnosis, treatment", "Chronic ischemic disease of the digestive system: clinical course options, diagnosis, treatment", " Ischemic ulcers of the stomach and duodenum 12.
All scientific works, methodological recommendations and monographs are devoted to diseases of the gastrointestinal tract in patients with concomitant diseases of the cardiovascular system, metabolic syndrome, in patients with type 2 diabetes mellitus, and the peculiarities of treatment of the digestive organs in the elderly. Zvenigorodskaya F. A. has 8 patents for the treatment of diseases of the digestive system. Author of more than 280 scientific papers. Hirsch's Indenx - 16. Doctor of the highest category. He has certificates in gastroenterology and endocrinology. Under her leadership, 15 candidate's and 1 doctoral dissertations were defended. Over the past 5 years, about 40 scientific papers have been published in the peer-reviewed journals of the Higher Attestation Commission. More than 30 lectures were delivered for practicing doctors in Moscow and other regions of the Russian Federation. She has repeatedly spoken at international symposiums, conferences and congresses on metabolic syndrome, obesity,and diabetes.
Currently, he is engaged in the diagnosis and treatment of metabolic diseases of the digestive system: patients with obesity, type 2 diabetes, disorders of lipid metabolism, hypothyroidism in patients with cardiovascular diseases.
Winner of the Moscow City Government Award in the field of healthcare (2007).)
Winner of the award of the Newspaper Medical Bulletin " RECOGNITION 2010.»
Honored Doctor of Russia (2013))
Сертификат 0677241549384 от 08022019
Price list
| | |
| --- | --- |
| #1-161 Прием (осмотр, консультация) ведущего специалиста, д.м.н., профессора в сложных клинических случаях первичный | 12600 руб |
| #1-162 Прием (осмотр, консультация) ведущего специалиста, д.м.н., профессора в сложных клинических случаях повторный | 10100 руб |
Не является офертой