Mareeva Darya Vyacheslavovna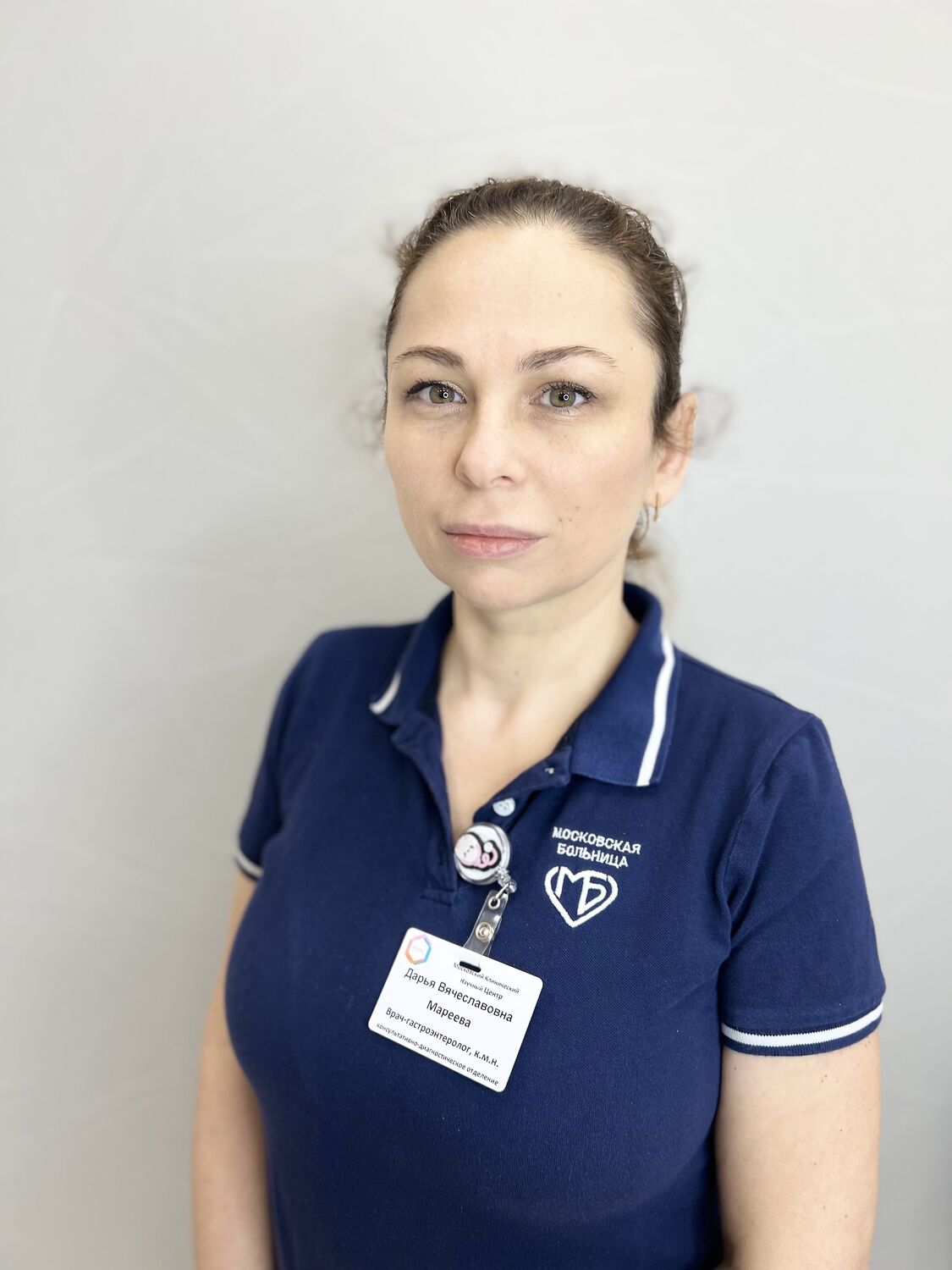 Gastroenterologist, Therapist
Консультативно-диагностическое отделение
Education:
In 2007, she graduated from the Medical Faculty of the Russian State Medical University with a degree in medical Science.  
From 2007 to 2008, she studied in a clinical internship at the Department of Hospital Therapy No. 2 of the Russian State Medical University, specializing in "therapy".
From 2008 to 2010, she studied in a clinical residency at the Central Research Institute of Gastroenterology, specializing in "therapy".
From 2010 to 2013, she was a full-time postgraduate student at the Department of Therapy, Geriatrics and Apitherapy of the Moscow State University of Medicine and Dentistry.
Titles:
In 2013, she defended her PhD thesis in gastroenterology. "The state of the vascular bed of the small intestine in patients with portal hypertension»
Scientific work:                                                                                                     
24 scientific papers have been published, including 3 in the leading peer-reviewed publications recommended by the Higher Attestation Commission. Also a chapter in the monograph Difficult clinical cases in gastroenterology.
Based on the materials of the dissertation work, oral reports were made at the European Bridging meeting 2011 in Berlin, at the Russian National Congress "Man and Medicine" in 2011, 2012, 2013; at the XXXX session "Multidisciplinary approach to gastroenterological problems" in 2013, at the 3rd All-Russian Scientific and Practical Conference Topical issues of endoscopy in 2012, at the Joint Postgraduate Course for Doctors and Young Professionals "Diseases of the digestive system, early diagnosis of cancer and Metabolic Syndrome", organized by the European Association gastroenterology, endoscopy, and nutriciology, together with NOGR and TSNIIG DZM.
Сертификат 0677241983385 от 15121970
Price list
| | |
| --- | --- |
| #1-3 Прием (осмотр, консультация) врача-гастроэнтеролога, к.м.н. первичный | 4600 руб |
| #1-4 Прием (осмотр, консультация) врача-гастроэнтеролога, к.м.н. повторный | 3400 руб |
Не является офертой