Дневной стационар по онкологическому профилю
В отделении проводятся все современные режимы противоопухолевой лекарственной терапии, не требующие круглосуточной госпитализации:
химиотерапия,
иммунотерапия,
таргетная терапия.
В отделении проводятся все современные режимы противоопухолевой лекарственной терапии, не требующие круглосуточной госпитализации:
химиотерапия,
иммунотерапия,
таргетная терапия.
30 удобных кресел позволяют с комфортом проводить инфузии продолжительностью до нескольких часов.
На основе определения молекулярного профиля опухоли (исследование осуществляется в лабораториях МКНЦ) проводится персонифицированный подбор таргетной терапии.
В отделении также проводится современный комплекс поддерживающей терапии, позволяющей облегчить переносимость противоопухолевого лечения. При необходимости (плохое состояние поверхностных вен на руках, проведение длительных инфузий) до начала химиотерапии осуществляется постановка венозного порта.
The construction of one of the largest projects of Moscow healthcare - the new medical and diagnostic complex of the MCC named after A.S. Loginov has been completed.  Today the center was visited by the Deputy Prime Minister Tatyana Golikova and the Mayor of MoscowSergei Sobyanin. For 3 years, a state-of-the-art clinic was erected on the site of outdated, small medical buildings built in the 50s and 70s.  Here, patients with oncological diseases will receive all types of medical care — from diagnostics to high-tech treatment and dispensary observation. The center will treat the most difficult localization of malignant tumors and perform organ transplantation. Director of MCSC named after A.S. Loginov, prof. Igor Khatkov thanked the Moscow Government for its attention to the development of healthcare in the city. According to him, now doctors have every opportunity to achieve new results.  The Center will receive its first patients in the summer of 2023. 
Staff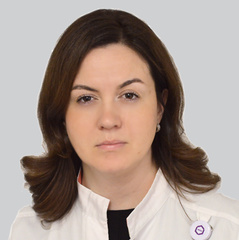 Oncologist
Head of department
Дневной стационар по онкологическому профилю