Departments and Centers
Дневной стационар по онкологическому профилю
В отделении проводятся все современные режимы противоопухолевой лекарственной терапии, не требующие круглосуточной госпитализации: химиотерапия, иммунотерапия, таргетная терапия. 30 удобных кресел позволяют с комфортом проводить инфузии продолжительностью до нескольких часов. На основе...
Read more
Collapse
В отделении проводятся все современные режимы противоопухолевой лекарственной терапии, не требующие круглосуточной госпитализации:
химиотерапия,
иммунотерапия,
таргетная терапия.
30 удобных кресел позволяют с комфортом проводить инфузии продолжительностью до нескольких часов.
На основе определения молекулярного профиля опухоли (исследование осуществляется в лабораториях МКНЦ) проводится персонифицированный подбор таргетной терапии.
В отделении также проводится современный комплекс поддерживающей терапии, позволяющей облегчить переносимость противоопухолевого лечения. При необходимости (плохое состояние поверхностных вен на руках, проведение длительных инфузий) до начала химиотерапии осуществляется постановка венозного порта.
Doctors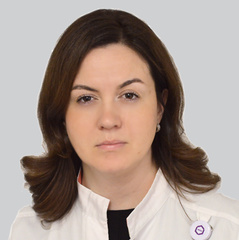 Oncologist
Head of department
Candidate of Medical Sciences, specialist in the field of drug treatment of malignant tumors. Education: In 2005-graduated from MMA im. Sechenova, Medical Faculty 2005-Residency in the...