Departments and Centers
Clinical and diagnostic laboratory
Building 3, floor 2
Лаборатория оснащена автоматическими анализаторами ведущих мировых производителей, в работе используются сертифицированные реактивы и контрольные материалы.
гематологические,
биохимические,
исследования системы гемостаза,
общеклинические,
иммуногематологические,
цитологические,
иммуноцитохимические,
оценка кислотно-основного состояния и газов крови,
состояния водно-электролитного обмена.
Read more
Collapse
Большое внимание уделяется качеству выполняемых исследований. Ежедневный внутрилабораторный контроль качества, участие в федеральной системе внешней оценки качества (ФСВОК), международных программах оценки качества RIQAS и EQAS, обеспечивает соответствие всех исследований требованиям международных и национальных стандартов.
В состав КДЛ входит отдел экспресс диагностики, расположенный в непосредственной близости к операционным и отделениям интенсивной терапии. Круглосуточный режим работы позволяет обеспечить необходимый объем и скорость выполнения высокоинформативных лабораторных исследований для стационара МКНЦ.
Цитологические исследования проводятся в плановом порядке и в операционной по системе ROSE (Rapid on site evaluation).
Все сотрудники являются высококвалифицированными специалистами, ежегодно принимают участие в Российских и международных конференциях.
В КДЛ МКНЦ им. А.С. Логинова проводится широкий спектр исследований:
гематологические,
биохимические,
исследования системы гемостаза,
общеклинические,
иммуногематологические,
цитологические,
иммуноцитохимические,
оценка кислотно-основного состояния и газов крови,
состояния водно-электролитного обмена.
Ежегодно в лаборатории выполняется более 1,5 млн исследований.
Your Appointment
Full schedule
Doctors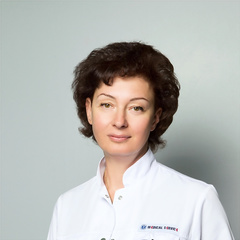 Head of laboratory
Education: 1995 Moscow Medical Dental Institute named after N. A. Semashko 1997-Clinical residency in Gastroenterology, Central Research Institute of Gastroenterology 2001. Professional...