Departments and Centers
Функциональной диагностики
Building 4, floor 3
Методы функциональной диагностики имеют огромное значение в профилактике, раннем выявлении и дифференциальной диагностике сердечно-сосудистых заболеваний, заболеваниях нервной системы, органов дыхания и др., а также контроля эффективности лечебно-оздоровительных мероприятий. Большое...
Read more
Collapse
Методы функциональной диагностики имеют огромное значение в профилактике, раннем выявлении и дифференциальной диагностике сердечно-сосудистых заболеваний, заболеваниях нервной системы, органов дыхания и др., а также контроля эффективности лечебно-оздоровительных мероприятий. Большое значение методы функциональной диагностики имеют при дополнительном обследовании пациентов перед оперативными вмешательствами.
Все исследования в отделении ФД МКНЦ проводятся на современном соответствующим последним требованиями медицины оборудовании, высококвалифицированными специалистами.
В отделении функциональной диагностики выполняются следующие исследований:
Трансторакальная эхокардиография с допплеровским анализом
Электрокардиография (ЭКГ)
Холтеровское мониторирование ЭКГ
Суточное мониторирование АД (СМАД)
Нагрузочное тестирование (Велоэргометрия)
Исследование функции внешнего дыхания (ФВД)
Электроэнцефалография (ЭЭГ)
Реоэнцефалография
Реовазография сосудов верхних и нижних конечностей
Стимуляционная Электронейромиография
В отделении осуществляется ряд исследований входящих в предоперационное обследование сердечно-сосудистой и дыхательной систем у больных перед плановым оперативным вмешательством.
Предоперационное обследование сердечно - сосудистой и дыхательной систем в отделении Функциональной Диагностики включает в себя:
Исследование функции внешнего дыхания (ФВД)
Регистрация ЭКГ
Трансторакальная ЭХО-КГ
Холтеровское мониторирование-ЭКГ
Суточное мониторирование АД (для пациентов с АГ)
Нагрузочное тестирование (ВЭМ и др.) (после консультации кардиолога).
Prepare to clinical research
Doctors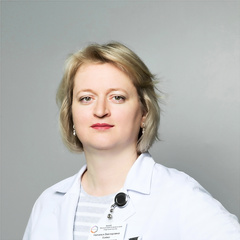 Functional diagnostics
Head of department
Position: Head of the Department Education: 1997 - Moscow Medical Dental Institute named after N. I. Semashko, specialty "medical care" (MMSI) 1999-City clinical residency in...