Departments and Centers
Воспалительных заболеваний кишечника
Building 4, floor 5
Воспалительные заболевания кишечника (язвенный колит, болезнь Крона) ранее относили к редкой гастроэнтерологической патологии, однако, современные эпидемиологические исследования свидетельствуют о значительном росте заболеваемости ВЗК. Распространенность ЯК составляет от 21 до 268 случаев на 100...
Read more
Collapse
Воспалительные заболевания кишечника (язвенный колит, болезнь Крона) ранее относили к редкой гастроэнтерологической патологии, однако, современные эпидемиологические исследования свидетельствуют о значительном росте заболеваемости ВЗК. Распространенность ЯК составляет от 21 до 268 случаев на 100 тыс.населения. Распространенность болезни Крона в России – 3,5 человек на 100.000 жителей. Социальную значимость ВЗК определяет преобладание заболевания среди лиц молодого трудоспособного возраста, а также ухудшение качества жизни из-за хронизации процесса, а следовательно, частого стационарного лечения.
Данные патологии характеризуется сложным механизмом развития, рецидивирующим и непредсказуемым характером течения, опасными для жизни осложнениями и инвалидизацией больных. В связи с частыми внекишечными манифестациями больные с воспалительными заболеваниями кишечника могут длительное время наблюдаться специалистами другого профиля (гематологи, дерматологии, ревматологи, эндокринологи и др.). Поэтому одной из основных функций специалистов отделения является поиск методов активного выявления воспалительных заболеваний кишечника. Помимо современных методов диагностики, включающих в себя эндоскопические методы (колоноскопия), гистологические, рентгенологические методы, КТ – энтерографию, на базе нашего отделения осуществляется эффективное лечение язвенного колита и болезни Крона с использованием биологических препаратов, мезенхимальных стволовых клеток. Подбор терапии происходит индивидуально для каждого больного. Отделение воспалительных заболеваний кишечника располагает стационаром на 40 мест.
Если Вы отмечаете у себя некоторые из нижеперечисленных симптомов, рекомендуем Вам пройти обследование у нас.
Типичные клинические симптомы воспалительного заболевания кишечника -
Кишечные: кровь в стуле, диарея, тенезмы, запор, боль в животе
Внекишечные (наиболее часто встречающиеся): поражения суставов (артралгия, артропатия, артрит); поражения кожи (узловатая эритема, гангренозная пиодермия); афтозный стоматит; поражения глаз (увеит, ирит, иридоциклит, эписклерит); первичный склерозирующий холангит
Doctors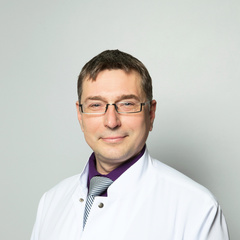 Gastroenterologist
Head of department
Education: he graduated from the Ryazan Medical Institute named after Academician I. P. Pavlov. Experience: Since 1992, he worked as a hematologist in the regional clinical hospital of...