Departments and Centers
Radiologic
Работа рентгеновского отделения нашего Центра состоит из амбулаторного приёма пациентов консультативно-диагностического отделения и обследования пациентов, находящихся на стационарном лечении.
Наше отделение – это:
команда врачей-рентгенологов экспертного уровня с многолетним опытом работы;
проведение рентгенологических исследований, КТ- и МРТ-исследований в ЕЖЕДНЕВНОМ режиме;
всесторонняя помощь больным с различными заболеваниями;
современное оборудование, позволяющее получать снимки максимально возможного качества при минимальной дозе облучения пациентов.
В отделении проводятся исследования всех органов и систем человека. После исследований выдается заключение с подробным описанием результатов. Полученные цифровые снимки сохраняются и прилагаются к результатам обследования на DVD-диске.
Заключения по результатам проведенного обследования можно получить в день обращения – в случае проведения рентгенологических исследований, а также в отдельных случаях при проведении КТ- и МРТ- исследований (в зависимости от количества исследуемых зон и использования контраста).
Заключения по результатам проведения МРТ- и КТ-исследований можно получить на следующий день или по электронной почте (по желанию пациента). Сразу после проведения МРТ или КТ пациент может пойти домой.
Обращаем Ваше внимание, что заключения проведенного исследования, выданные на следующий день, являются результатом вдумчивого анализаклинической картины, многоплановой дифференциальной диагностики и обсуждения каждого конкретного случая с коллегами и лечащим врачом.О тщательности работы сотрудников отделения можно судить по объёмному и тщательно проанализированному протоколу исследования.
В случае обнаружения во время проведения исследования изменений, требующих неотложных мер, протокол выдается на руки пациенту в день исследования, а результаты исследования незамедлительно сообщаются лечащему врачу.
Prepare to clinical research
Your Appointment
Full schedule
Doctors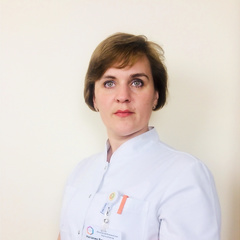 Radiologist
Head of department
Education: In March 2008, she graduated from the Moscow State Medical and Dental University specialty " Medical care» From March 2008 to February 2010-clinical residency in the...