Departments and Centers
Химиотерапевтическое
Building 3, floor 3
В химиотерапевтическом отделении МКНЦ им. А.С. Логинова ДЗМ мы оказываем помощь пациентам с онкологической патологией. Мы проводим противоопухолевую терапию без выходных и праздничных дней. В нашем отделении вы можете получить лечение по современным международным стандартам. Мы лечим опухоли...
Read more
Collapse
В химиотерапевтическом отделении МКНЦ им. А.С. Логинова ДЗМ мы оказываем помощь пациентам с онкологической патологией. Мы проводим противоопухолевую терапию без выходных и праздничных дней. В нашем отделении вы можете получить лечение по современным международным стандартам.
Мы лечим опухоли следующих локализаций:
рак лёгкого;
рак молочной железы;
рак предстательной железы;
колоректальный рак;
рак поджелудочной железы;
герминогенные опухоли;
рак яичников;
рак шейки матки;
рак тела матки;
меланома;
рак желудка;
все типы сарком;
злокачественные опухоли головного мозга;
опухоли головы и шеи;
рак почки;
рак мочевого пузыря;
печеночно-клеточный рак;
опухоли гепатобилиарной системы;
нейроэндокринные раки.
Наш приоритет – это индивидуальный подход к терапии каждого пациента.
При необходимости мы выполняем установку ПОРТ системы, для проведения пролонгированных внутривенных инфузий.
Еженедельно в отделении проводятся обходы с руководителем отдела онкологии, заместителем директора по онкологии профессором РАН, д.м.н. Жуковой Л.Г. Четыре раза в неделю заведующий отделением проводит прием первичных и повторных пациентов, намечает оптимальную тактику предстоящего лечения. Химиотерапевтическое отделение работает в тесном контакте с дневным стационаром по онкологическому профилю.
Doctors
Oncologist
Head of scientific department
Deputy Director of the A. S. Loginov Moscow Research Center for Chemotherapy Doctor of Medical Sciences, Professor of the Russian Academy of Sciences, specialist in the field of drug treatment of...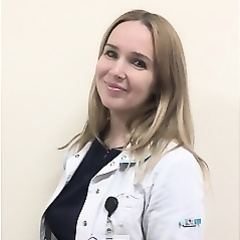 Oncologist
Head of department
Education: 1998-Graduate of the Medical Faculty of the Tyumen State Medical Academy. 2006. Primary professional retraining, specialty "Health organization and public health". Academic...