Departments and Centers
Патологоанатомическое
Building 1, floor 2
В патологоанатомическом отделении ГБУЗ МКНЦ имени А. С. Логинова ДЗМ проводится прижизненная диагностика опухолей, предопухолевых заболеваний и воспалительных заболеваний, на биопсийном и операционном материале, используя гистологические, иммуногистохимические и некоторые виды...
Read more
Collapse
В патологоанатомическом отделении ГБУЗ МКНЦ имени А. С. Логинова ДЗМ проводится прижизненная диагностика опухолей, предопухолевых заболеваний и воспалительных заболеваний, на биопсийном и операционном материале, используя гистологические, иммуногистохимические и некоторые виды молекулярно-генетических методов (гибридизация in situ).
Ежегодно в отделении проходят обследование более 30 000 пациентов.
Специалистами подразделения выполняется более 140 тыс. прижизненных патологоанатомических исследований, более 15 тыс. иммуногистохимических исследований.
Патологоанатомическое отделение оснащено современным оборудованием, которое позволяет проводить диагностику с использованием новейших методик, что максимально сокращает преаналитические этапы исследований.
В отделении работают врачи-патологоанатомы высшей квалификационной категории, кандидаты наук, члены ведущих национальных и международных профессиональных сообществ, специализирующиеся на различных нозологиях.
Патологоанатомическое отделение осуществляет морфологическую диагностику опухолей человека всех локализаций. Основными практическими и научными направлениями в работе отделения являются:
Опухоли различных отделов желудочно-кишечного тракта
Нейроэндокринные опухоли различных локализаций
Опухоли легких
Опухоли женской репродуктивной системы
Опухоли молочных желез
Опухоли мягких тканей
Иммуногистохимические исследования
Иммуногистохимическое исследование – современный метод морфологической диагностики, применяемый на парафиновых блоках для подтверждения или уточнения гистологического диагноза (диагностика лимфом, уточнение гистотипа эпителиальной опухоли, выявление первичного очага при биопсии метастаза), определения биологических маркеров для выбора методов лечения и определения прогноза.
Prepare to clinical research
Doctors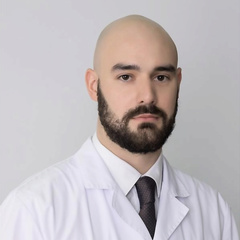 Pathologist
Head of department
Post: pathologist, senior researcher, Candidate of Medical Sciences. Education: In 2011, he graduated with honors from the Rostov State Medical University of the Ministry of Health of the...