Departments and Centers
Патологии верхних отделов пищеварительного тракта
Building 6, floor 3
Отделение патологии верхних отделов пищеварительного тракта располагает стационаром на 15 мест. В отделении осуществляется диагностика и лечение различных заболеваний верхних отделов пищеварительного тракта: Язвенная болезнь желудка и двенадцатиперстной кишки...
Read more
Collapse
Отделение патологии верхних отделов пищеварительного тракта располагает стационаром на 15 мест.
В отделении осуществляется диагностика и лечение различных заболеваний верхних отделов пищеварительного тракта:
Язвенная болезнь желудка и двенадцатиперстной кишки
Гастроэзофагеальная рефлюксная болезнь
Нейромышечные заболевания пищевода (эзофагоспазм, кардиоспазм, ахалазия пищевода)
Синдромы оперированного желудка (реабилитация пациентов после операции по поводу рака пищевода и желудка
или осложненного течения язвенной болезни)
Подслизистые образования пищевода, желудка, двенадцатиперстной кишки.
Диагностические мероприятия осуществляются профессиональными эндоскопистами, специалистами ультрасонографии и рентгенологами.
Широко выполняются методики суточного мониторирования рН желудка и пищевода, манометрия пищевода и кратковременное исследование кислотности желудочного сока специалистами отделения.
Лечебные мероприятия включают:
диетическое питание
медикаментозную терапию
При необходимости хирургического лечения (грыжи пищеводного отверстия диафрагмы, ахалазия пищевода, опухоли различной локализации, высокотехнологичные реконструктивные операции и т.д.) пациентов консультируют высококвалифицированные хирурги (эндоскопическая хирургия, хирургия высоких технологий). Все хирургическое лечение в полном объеме наши пациенты также получают в МКНЦ.
В отделении патологии верхних отделов пищеварительного тракта работают: старший научный сотрудник, кандидат медицинских наук Валитова Элен Робертовна; научный сотрудник, кандидат медицинских наук Березина Ольга Игоревна, младший научный сотрудник Трейман Елена Владимировна, высококвалифицированный врач-гастроэнтеролог кандидат медицинских наук Федуленкова Людмила Викторовна.
Prepare to clinical research
Doctors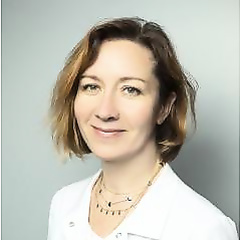 Gastroenterologist, Therapist
Head of department
Doctor-gastroenterologist, therapist of the highest category. Education: In 1997, she graduated from the Moscow Medical Dental Institute with a degree in Medical Science. Work experience:...