Departments and Centers
Центр персонализированной медицины
Building 6, floor 1
РЕШЕНИЯ ДЛЯ КАЧЕСТВЕННОЙ ЖИЗНИ
Объединяя опыт лучших специалистов и современные медицинские технологии, мы предлагаем Вам уникальный продукт.
Персонализированная медицина – это современный подход к оценке состояния здоровья. Наша деятельность направлена на тщательное изучение физиологических и генетических особенностей организма с использованием современных молекулярных и инструментальных методов обследования. Современные технологии...
Read more
Collapse
Персонализированная медицина – это современный подход к оценке состояния здоровья. Наша деятельность направлена на тщательное изучение физиологических и генетических особенностей организма с использованием современных молекулярных и инструментальных методов обследования.
Современные технологии позволяют нам не только грамотно оценить истинную вероятность развития заболевания, но и разработать меры профилактики максимально индивидуально.
Располагая большой клинической и лабораторно-инструментальной базой, Центр Персонализированной Медицины готов предложить Вам широкий диапазон исследований и видов консультаций.
При необходимости возможна госпитализация пациента в любое стационарное отделение МКНЦ.
В Центре персонализированной медицины Вы сможете:
получить комплексную оценку состояния здоровья, включая психологические факторы
узнать о Ваших предрасположенностях к заболеваниям (хроническим и онкологическим)
разработать индивидуальную программу обследования и профилактики для предотвращения развития той или иной патологии
получить персонализированное лечение в зависимости от Вашего генотипа
Почему Центр Персонализированной Медицины?
высокий профессионализм
командный подход
научная деятельность
большая клиническая и лабораторно-инструментальная база
интересы пациента - превыше всего!
Центр Персонализированной Медицины – это мировые стандарты качества с комфортом для Вас!
Prepare to clinical research
74953050550
Doctors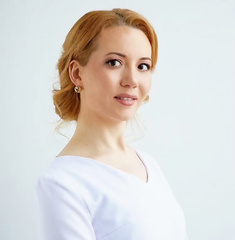 Gastroenterologist
Head of the center
SPECIALTY Gastroenterology Position: Head of the Center for Personalized Medicine, gastroenterologist. Education: In 2011, she graduated from the Moscow Medical Academy named after I. M....